1st Step to knowing Jesus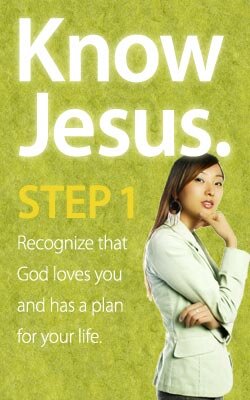 Recognize that God loves you and has a plan for your life.
His love includes you
"This is how much God loved the world: He gave His Son, His one and only Son. And this is why: so that no one need be destroyed; by believing in Him, anyone can have a whole and lasting life."
—John 3:16 (MSG)
He has new life for you
"The thief is only there to steal and kill and destroy. I came so they can have real and eternal life, more and better life than they ever dreamed of."
—John 10:10 (MSG)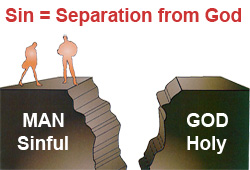 Step 2
Recognize that sin separates you from God and others.
SIN is walking our own way in rebellion against God's will. When we walk away from God, we walk away from life.
Everyone has sinned
"Since we've compiled this long and sorry record as sinners (both us and them) and proved that we are utterly incapable of living the glorious lives that God wills for
us." —Romans 3:23 (MSG)
Sin brings death
"Work hard for sin your whole life and your pension is death. But God's gift is real life, eternal life, delivered by Jesus, our Master.
—Romans 6:23 (MSG)
As sinners we futilely try to find life's true meaning in the wrong ways and places.
Our own efforts cannot save us
"Saving is all His idea, and all His work. All we do is trust Him enough to let Him do it. It's God's gift from start to finish! We don't play the major role. If we did, we'd probably go around bragging that we'd done the whole thing!"
—Ephesians 2: 8-9 (MSG)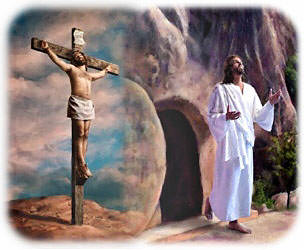 Step 3
Recognize that Jesus Christ died and rose again for our sins.
He died in our place
"But God put His love on the line for us by offering His Son in sacrificial death while we were of no use whatever to Him."
—Romans 5:8 (MSG)
Jesus Christ is the way to new life
"Now we look inside, and what we see is that anyone united with the Messiah gets a fresh start, is created new. The old life is gone; a new life burgeons! Look at it!"
—2 Corinthians 5:17 (MSG)
He gives inner peace
"By entering through faith into what God has always wanted to do for us—set us right with Him, make us fit for Him—we have it all together with God because of our Master Jesus."
—Romans 5:1 (MSG)
He gives freedom
"So if the Son sets you free, you are free through and through." —John 8:36 (MSG)
He gives eternal life
"But God's gift is real life, eternal life, delivered by Jesus, our Master." —Romans 6:23 (MSG)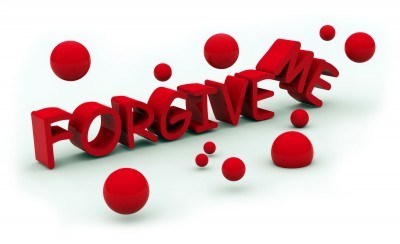 Step 4
You must be sorry for your sins and ask God for forgivness
Admit and confess your sins to God
"You can't whitewash your sins and get by with it; you find mercy by admitting and leaving them."
—Proverbs 28:13 (MSG)
Being sorry means
To acknowledge your sins To be sorry for your sins To confess your sins To be willing to forsake your sins To have your life changed by Christ!
Forgiveness is promised
"On the other hand, if we admit our sins—make a clean break of them—he won't let us down; he'll be true to himself. He'll forgive our sins and purge us of all wrongdoing."
—1 John 1:9 (MSG)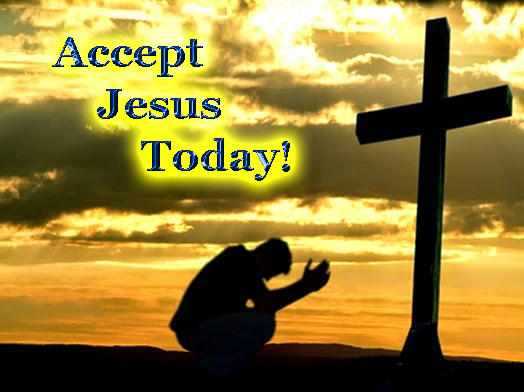 Step 5
Place your trust in Christ and receive Him as your Savior and Lord—your CEO.
Christ is ready
"Look at Me. I stand at the door. I knock. If you hear Me call and open the door, I'll come right in and sit down to supper with you."
—Revelation 3:20 (MSG)
Receive Him now
"But whoever did want Him, who believed He was who He claimed and would do what He said, He made to be their true selves, their child-of-God selves."
—John 1:12 (MSG)
What to pray
Lord Jesus, I want to have life. I know that I have sinned and messed up. I need Your forgiveness and pardon. I believe that You died and came back to life again for my sins. I now accept You as my personal Savior, my CEO. I will turn away from my sinful life. I know that Your grace and power will enable me to live for You. Thank You, Jesus, for being in relationship with me and for giving me new life.
For help in living a meaningful life in Christ:
Be assured of Christ's forgiveness.
Read your Bible and pray daily.
If you prayed the prayer above you are now a Christian. Contact us at the address below to get connected with other believers. No pressure, No Religion, Just good relationships in Christ!
Deland Church of The Nazarene
913 East New York AvenueDeland, FL 32724-5663
for immediate text replies to questions and decisions please let us know at
833-347-8106